Tributes





Lucy May MEMORIAL OCT 2017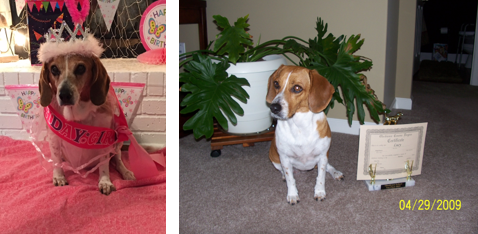 ​Lucy celebrated her 10th year to us on July 2nd with her Princess party. That was her name before we adopted her. But the clown that she was, I thought Lucy suited her better.
From the time we got her they guessed she was 1-2 years old. We adopted her from Guardian Angel in Olive Branch. The day we went for she & Daisy to meet, the lady told us "Now if she doesn't work out you can bring her back, she has been brought back twice already". We told her that no she wouldn't be brought back that she had found her forever home and that whatever her issues were, we would work them out and she would have the best home we could provide. We were blessed because she was one of the BEST dogs that we have ever had. She was the clown of the May household. All our friends and family loved her and she wasn't picky about who she slept with, if they were down with sleeping she was all over that. She loved to play, eat, sleep, eat, bark, ride as long as she wasn't in her kennel, but more than anything she loved her daddy and being in the kitchen. They were thick as thieves and tight as frick and frack. Our house is now quiet of those sweet sounds of the beagle bugling and oh how we miss it. Not a day goes by that we don't miss her. I always have said "Nothing better than a beagle"! We really had the best in Lucy.
---

Ranger Marshall Memorial Dec 2016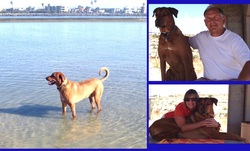 Ranger traveled far and made many friends in his life. The top two pictures were in Winslow, AZ the summer of 2015 and the bottom pictures were at "Dog Beach" in San Diego in 2014. He loved to run in the shallow water and hunt for fish. He was more important to us than any other thing in our lives. He was the very best and we don't think the sadness will ever leaves us. We are so grateful though for DARS and the fact Ranger found his way from your loving homes to ours. He was family and will remain in our hearts forever.


---

Roxie Migley Memorial  Nov 2016

For Katie and Thomas Midgely in memory of their beloved pug, Roxie .
By your friend, Nathan Tipton
---

Henry Jeffcoats memorial April 2016
To Christel Jeffcoats from your friends, International Paper - Legal Department. A donation has been made in honor of Henry Jeffcoats to help the needy animals in our community.

Linda Salsgeber Honorarium december 2015
by Mike and Pam Salzgeber
A donation to help needy animals has been made In honor of Linda who has demonstrated a lifelong love of her pets. They truly are family to her.

Bubba Brooks Memorial October 2015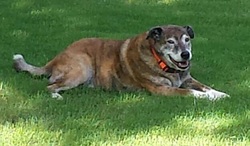 By his human sister, Tricia Brooks
Our Dad rescued a litter of stray puppies who were born out in the country. All of the puppies were placed in other homes, but one puppy caught his heart and his name became Bubba Brooks. Bubba soon found a special place into the whole family's hearts. Bubba was rambunctious as a puppy and young adult,but calmed as he got older. He reluctantly accepted new puppies brought into the family, but he tolerated. Bubba's favorite things to do was to go on his daily walk with his Dad and shake hands. He always expected you to shake his hand several times whenever you came over to visit. Bubba was one of those special dogs who's demeanor fit in perfectly with his family and we will miss him terribly. "It's not goodbye, but a 'we'll see you later, Bubba Brooks!'"
---

Missy Huff memorial September 2015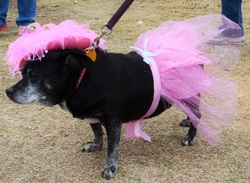 Our Sweet Missy has crossed the Rainbow Bridge. While she's waiting for her family, she's eating all the ice cream and treats her little belly can hold because she can. She's chewing bones because her teeth are strong and don't hurt. She's running through fields chasing butterflies because her joints don't hurt any more. She doesn't have to get her nails clipped because they don't grow that fast. And she's wearing her costume because she's the cutest! And the sweetest!
---

Steven Dugger Memorial September 2014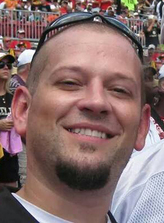 by his friend, Katherine Whitfield
Steven, your spirit and love for all beings was larger than life itself. I'm so thankful that God allowed our paths to cross, and I will carry your friendship in my heart forever. I think I will miss your iconic smile and your sense of humor the most. Rest in peace, my funniest friend. Find Gumbo up there and y'all take care of each other.
With love.
---

Ginger Young memorial September 2014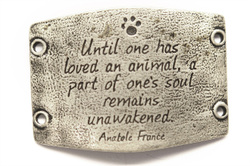 by Friends of Ginger
In honor of Ginger Young, who went to the rainbow bridge back in April of this year. Her momma, Carol, and all of her friends miss her very much.
---

Annie Memorial August 2014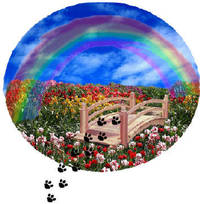 By Friends of Mary Kay in Annie's memory
A great companion, a great listener, a great dog!
There is nothing better than a rescued animal as the love is never-ending. They are always happy to see you. It doesn't matter how you are dressed or what your hair looks like. It only matters that you are there. That type of unconditional love is precious and should be cherished always.
---

KATIE HARDEN MEMORIAL aPRIL 2014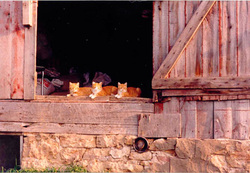 by Her DARS Family
In memory of our friend and supporter, the DARS is spaying and neutering Katie's beloved barn cats, so that they may live longer, healthier lives. Katie, a lifelong animal lover, will be remembered for her warm smile and warm spirit.



---

Ruth ann hale honorarium october 2013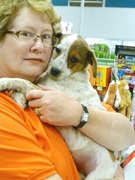 by Marketing, Communications, Web and Planning & Research Depts
at Methodist Healthcare
Ruth Ann is a dedicated and diligent champion for animals who has worked with DARS for the past 12 years to improve the lives of needy animals in our community. She was recently honored by her 'real job' co-workers with a very generous gift to the cause closest to her heart. Ruth Ann's favorite quote is "The greatness of a nation and its moral progress can be judged by the way its animals are treated" by Mahatma Gandhi.
---

Deuce Memorial Jan 2013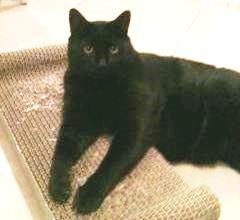 by His Family in loving memory of their beloved companion of 15yrs. Deuce's family contributed to a fund which allowed a needy cat, Mufasa, get much needed surgical intervention to correct a congenital eye condition which caused him to be born without eyelids - an extremely painful condition. After the surgery, Mufasa is living a normal, pain free life. Deuce will always be in the heart of his family.
---
To make a Tribute of your own, go
here