about us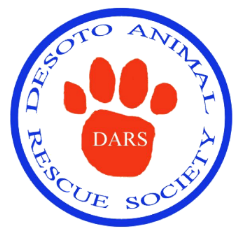 Desoto Animal Rescue Society (DARS) is a 501(c)(3) non-profit organization dedicated to the rescue, care, rehabilitation, and placement of unwanted, abandoned, and abused pets, giving them a second chance at a loving forever home. All animals taken in receive necessary medical care, heartworm testing and treatment if needed and routine vaccinations. All animals are spayed or neutered prior to adoption.

We are not a shelter with a facility where you can visit our pets. All rescued pets live in our own homes, where they are evaluated and cared for until they find their ideal adoptive family. We do our best to to make the very best match for pet and new family - not just A home, but the Right home! We carefully screen prospective homes and require all applicants to go through an adoption application process.

We are all volunteers with families, jobs and other responsibilities. We do this work because of our love and respect for animals. Our mission is to rescue, but our hope is that one day we won't need to. Unfortunately, we are limited in the number of animals we can rescue due to an ongoing shortage of foster homes. We take as many as we can care for adequately and that varies for every volunteer and home. We would love to be able to rescue more needy animals and will gladly speak to anyone about this very rewarding role.

We are not affiliated with the Desoto County Animal Shelter or any governmental agency. We do not receive any taxpayer funds. We operate solely on donations and the revenue we generate from fundraising events. 100% of our incoming funds go directly towards the care of our animals and to pay our vet bills. All other expenses are paid for by our own dedicated volunteers. We cannot do this work without the generosity of people who believe in our mission and want to support our efforts.