Happy tails
These are the stories that keep us going. when it looks bleak, when we're tired and overwhelmed with the endless numbers and the sad stories, when the seeming lack of humanity crushes our souls...we come to these stories to REJUVENATE our spirits and push us forward to help just one more!


If you've adopted a dars animal and would like to share your story & Pics,
please contact us at info@desotoanimalrescue.org
Twiggy
Twiggy was only days from dying of starvation when someone finally stopped to help her. She showed her gratitude from day one and only blossomed as her body slowly recovered. Now, she has a home where she never has to worry about if and when she'll get her next meal and where she has some pretty cushy places to sleep - not scared and alone on the cold, hard ground. And most of all, she has a family who loves her beyond measure and treats her like the super model she really is!
pinky, now pepper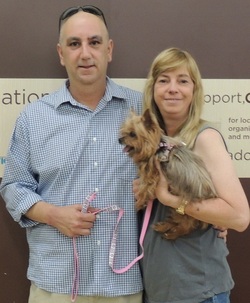 Pepper was a 10 year old girl in bad shape and suffering from several health issues when she was found wandering in the awful heat of mid-summer, barely alive. DARS took her in and stabilized her as much as we could. The Hall family were looking to adopt a dog who Really needed them, and Pinky certainly met that criteria. Pepper has had several health "incidents" but continues to fight, in part, I'm sure for her loving family of humans and fur-siblings.

---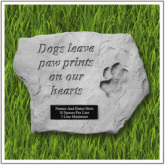 Update: Pepper has crossed the rainbow bridge in the arms of her loving mother. After a year and a half of struggle, her congestive heart failure took it's toll. Pepper passed knowing she was loved beyond measure by her human and fur-family. DARS will be forever grateful to the Hall family for their love and devotion to sweet Pepper.
---
Allie
Allie was one of 10 puppies born into the dirt under a house. Malnourished and full of parasites, they were headed for a dismal future. A DARS volunteer took all 10 of them in, nursed them back to health and prepared them for adoption. Allie now has a best friend and a family who love her tremendously.
Darby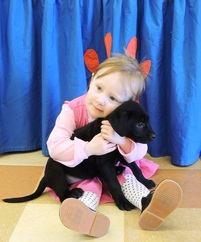 Darby is the sibling of Allie. He also was lucky enough to be adopted by a great family and he has a lifelong friend to grow with. Teaching children to love and respect animals and give them proper care is one of the best life lessons you can teach them.
---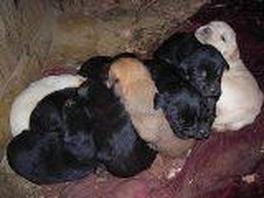 Darby and Allie with their siblings under the house.
---
---
JoJo, now Joey
The first picture is definitely difficult to look at, but as hard as it is, we have to use these types of pics to educate people on he atrocities of puppy mills! If you buy a dog at a flea market or swap meet, or via an ad, without demanding to see the breeder's facility, you are likely supporting the torture and abuse that dogs like Joey continue to endure! Many of them live in their own filth and develop open sores, because it's too much trouble to let them out to potty. Most of them have never known the kind touch of a human hand. Many of them are starved and never get veterinary care because those things cost money. Joey was actually one of the lucky ones. He was surrendered to a shelter when he was too malnourished and sick to make be a stud and produce for them. Thankfully, that shelter contacted DARS who took little Joey in and began his rehabilitation by showing him that humans could provide love and affection, which he'd never known before. All of his medical needs were attended to and he was nursed back to health. Finally, Joey was adopted by a loving family who continued who continued to show him patience and kindness and as you can see, he's blossomed! Joey can actually play with his siblings and even better, get love and affection from his humans any ol' time he wants it! Please report Puppy Mills and be a Hero to dogs like Joey 1-877-645-5847
Sierra, now CeCe
This little cutie is now named CeCe and is the light of her mom's eye! Sierra was orphaned when her mom fell out of a truck bed, but thankfully, CeCe survived and blossomed in her foster home. But, now, with her own forever home, she's really fulfilled. We always strive for the perfect match and this one was a bulls eye!
HOPE
This amazing little girl was viciously thrown out of a moving vehicle in a busy store parking lot. Thankfully, she was uninjured and recovered quickly to get out of the way of oncoming traffic. She was lucky enough to have this happen in front of one of the DARS Volunteers who scooped her up and told her she'd never be thrown out like trash again! Hope was adopted by a wonderful family who make sure she feels safe and loved every day.
Roxy, now Rosie
Rosie has a lot to be thankful for. She was cruelly abandoned in a home with no way to get water, food or call for help. Although we never forget the horrible things animals like Rosie have endured, but we try to focus on how resilient and grateful these beautiful souls are once rescued. And Rosie came through like the champ she is and now is loved and adored beyond all hopes. Her adoptive family took one look at her and fell in love with this sweet, loving girl. We couldn't be happier for Rosie!
Betsy, now Molly
This little girl, hit the jackpot when her new mom found her! Molly is a happy, travelling pup going all the way to Alaska and all over the country in her mom's RV. That's a long way from the heartworm positive fate she was facing in the hands of her previous owner. You go, Molly! And send a postcard every once in a while to your old friends at DARS ;)
leelee, now layla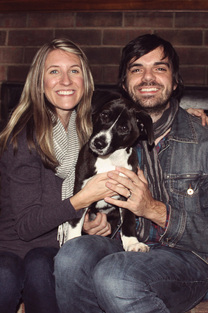 One of six puppies born under a house, infested with parasites and facing a dismal future, LeeLee came to DARS when her foster mom crawled under that house to collect the litter. She cleaned them up, got them healthy, housebroke them, got them vaccinated and sterilized. Now, they all have wonderful, loving homes and very bright futures, including this little girl, now called Layla. What a beautiful family they make!

---
Sissy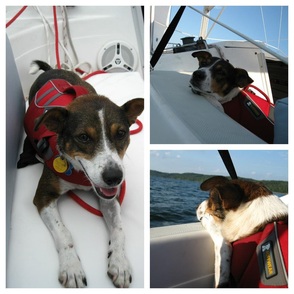 After being abandoned and fending for herself, Sissy really hit the million dollar lottery! Now she spends her spare time yachting about with her new dad, who says she took to being 'at sea' like a natural. And she looks so sporty in her life vest!

---
Abby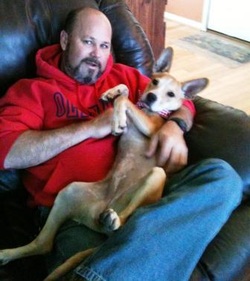 This is a special DARS adoption, since it was a volunteer family other than her foster parents who actually fell in love with this beautiful girl and made her part of their family. Abby's new dad met her for the first time at our Walk for Wags 'n Whiskers and told his wife that she was the one! You can see, she feels the same about her daddy!

---
Mick_Jack
Jack sure has come a long way from his days of scavenging food in the garbage and gutters of the mean streets. Apparently he's of the mind that he's the king of his new castle. But, when you have to survive by yourself on the streets for as long as Jack did, you develop a few quirks and commit a few peccadilloes along the way. That personality just seems to make his family love him all the more. His new family, the Kindermans brought Jack by a DARS adoption event for a visit and he absolutely remembered his foster mom and thanked her for all her hard work in finding him the perfect home with lots of kisses.
---
NUBS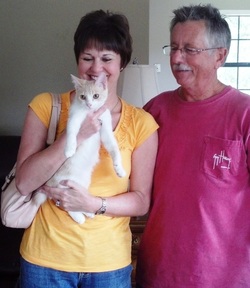 Nubs, a little bob tailed kitten came to me after I'd lost several kittens, but he was much older and I knew if I didn't take him, he'd have to go back to the bad situation he'd come from. Also, I was afraid I'd be skittish about kittens if I didn't prove to myself that I wasn't the cause of their demise. And I'm so glad I did. Nubs was a breath of fresh air. The word that comes to mind is rapscallion! Always into something, instigating something, looking at you in a funny way, aggravating the dog or just amusing himself, Nubs was a hoot! I was not anxious to find him a home, but when it's right, it's right! When I looked at the adoption form and it said Florida, I actually said out loud, "what, they don't have cats in Florida?!" Then I spoke with them - first Dirk and then Cindy. They had had a bob tail and knew the unique personalities these kittens have, so they were willing to drive up to North MS to get him and I (after doing some basic research in addition to the phone conversations) was willing to forgo the home visit we usually require and let him go to Florida. And now he's living the life. I love my pics I get of Nubs helping dad clean or lying with his dog sibling. He recently went on a road trip in a specially designed kitty condo. When I questioned them, their response was, "well, we couldn't leave our Nubs." That's how you want all your ex-foster babies to be loved!
---
Miss Kennedy
Miss Kennedy needed a new home when her previous owner moved to Thailand to become a missionary. DARS has a soft spot for older dogs and we try to help make their remaining years as nice as possible. Miss Kennedy has many happy years to come with her new family who love her as much as she loves them, as you can see.
---
Jock now mr. miyagi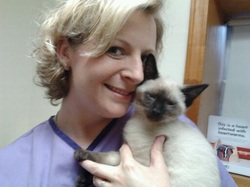 DARS rescued little Jock and his 5 siblings when he was a just a tiny kitten. The entire litter was completely healthy except for Jock and his twin brother, Jake. Both twins' right eyes continually watered, had a thick film covering the pupil, and could not completely open. We soon learned that Jock's eye had ruptured shortly after birth, so there was nothing left to do except have it surgically removed. Fortunately, Jock's eye was not quite as bad. One option for Jock would have been to play it safe and have the eye removed, but Dr. Christy Allen at Cat & Cow Veterinary Clinic strongly preferred to let Jock keep his eye and give it time to heal without surgical intervention. We were happily surprised when she asked to adopt Jock and make him her very own. We knew Dr. Christy would be Jock's ideal caretaker, so we were very happy to officially adopt him to Dr. Christy and her family. Dr. Christy takes him to work with her every day, so now we get to see him growing up into a beautiful cat with two beautiful blue eyes!
---
Barney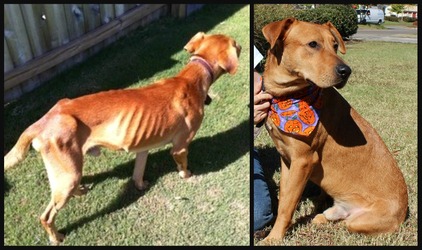 Barney came to us all bones, as you see. He had eaten so much non-food items like rocks and construction materials trying to survive that he had a severe bowel obstruction. Poor Barney was very sick for a long time and it was close several times. But Barney is a survivor and made a full recovery. He found his forever home with the son of his temporary foster mom. His mom made him pass several tests to make him earn her ?O great and have added another fur baby to the family, so Barney will have a playmate.
---
Flora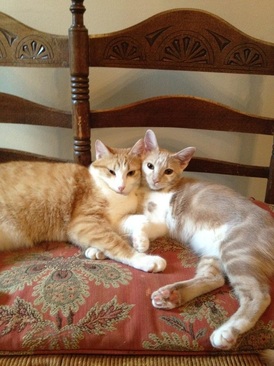 Sam (on the left) was in mourning for his deceased sister who perished over a year from some undiagnosable illness. His mom desperately wanted a companion for him, but with cats, you just can't predict how they're going to get along. Flora made herself right at home running all over the house within the first few minutes she was there- testing out Sam's food, jumping on the cabinets and just being the princess she is. Sam didn't know what to think about that little thing running around his house. He'd follow her from room to room, but observe her from a distance. So we hoped and we prayed and as you can see, our prayers were answered! Sam and Flora are the best of companions now and I'm sure Sam's sister is looking down on them and purring contentedly.
---
Bandit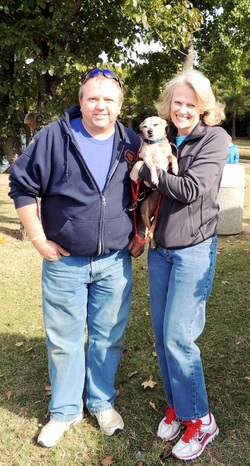 Bandit was orphaned when he outlived his elderly parents. The children didn't want him so they "got rid of him" by taking him to the shelter. Fortunately, Bandit's unique personality got the attention of the shelter staff who turned him into their mascot and they soon called DARS to help find Bandit a home of his own.
Being a senior and a little cranky, Bandit isn't the perfect dog for everyone, but his new forever family, who affectionately call him "Punk" adore his contrary ways and his nippy gums! Special blessings await anyone who gives comfort, love and security to an elderly animal. One of those people is his mom, here visiting with Bandit's former foster dad, Brett.
---
Cali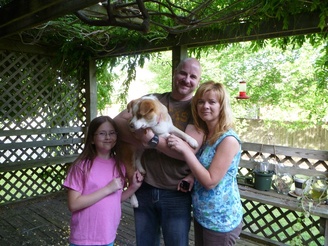 Cali, a sweet little sheltie mix, was surrendered to the Southaven Animal Shelter by her elderly owner who was no longer able to care for her. Mister Perry at the shelter took wonderful care of this little girl in the shelter until DARS pulled her. At Cali's first adoption event at Petco Southaven, the Davis family saw her and fell in love at first sight. Cali will never have to worry about being in a shelter again...now she has a wonderful, loving family who is committed to caring for her for her entire life.
---
Fergus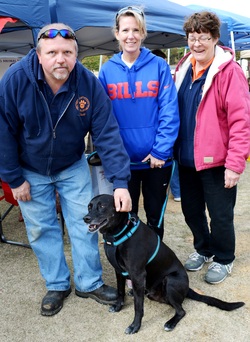 Fergus was literally taken off the euthanasia table and placed in foster care with DARS. This boy is too beautiful and loving to have his life cut short! Now, Fergus has a wonderful family who take him everywhere including our Walk for Wags n' Whiskers every October to visit with his former foster parents.
---
Lexi, now dizzy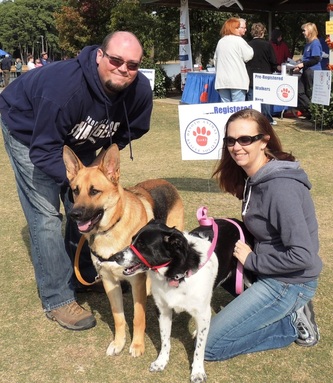 Dizzy, the black and white Border Collie mix was found as a 3 month old puppy by a river so tangled in fishing line that she would've surely perished had she not been rescued. Initially interested in doing agility training with her, Dizzy's parents still love her incredibly despite her physical shortcomings which make that impossible. Dizzy is an awesome big sister to her brother, Fezzik and I'm sure will also be a great foster sibling when her parents begin saving more lives by becoming Foster Parents!
---
cinnamon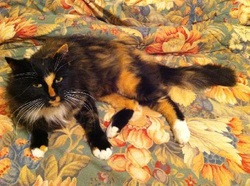 This beauty came to DARS after having a litter of kittens on her own. We had no trouble placing sweet Cinnamon who barely lasted a week before her new mom scooped her up. She's a beloved member of the family now.
---
Smokey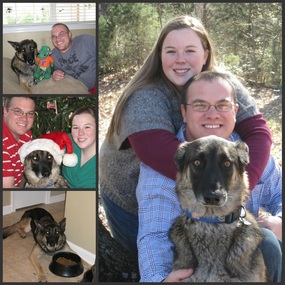 Smokey, a sweet, shy German Shepherd was rescued from an abusive situation and then adopted by a wonderful couple in Cordova. When Smokey first went into foster care, he hid beneath his foster Dad's bed for 3 days and would only go outside to potty if the doors were all left open and no human was in sight. Since being adopted, Smokey has really blossomed. He loves his "Dad" more, but continues to spend more and more time with his new "Mom". He has started playing with toys, thoroughly enjoyed getting his picture taken at Christmas with his new family, and his new favorite place is his parents' bed.
---
Fergus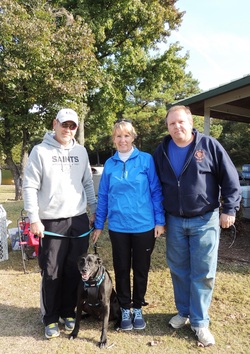 Fergus was adopted as a puppy and then suddenly, 4 years later, they didn't want him any more. Not only did they not want him, they wanted the vet to euthanize him! Thankfully, this was not one of those vets that will actually euthanize a healthy animal.
It's hard for most of us to understand this story, as most of us consider these animals vital parts of our families and it's inconceivable that we would give them up for any reason short of certain death. Well, Fergus got one of those families the second time around. Here they are visiting with Fergus' foster dad, Brett (on the right) at our Walk in 2013.
---
Jack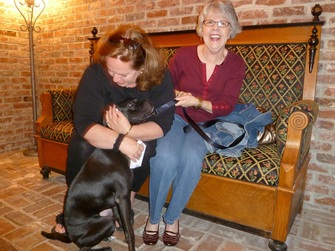 Jack, a sweet black boxer mix, was found emaciated and very weak by Emily Rygg, the owner of Bonne Terre Country Inn in Nesbit. Emily could not turn a blind eye to the needs of this poor boy, so she rescued him and called DARS to help find him a loving home. A few months later, Jack found a wonderful, loving, responsible home with his new owner, Nancy. To celebrate this wonderful event, Emily holds "The Furry Affair at Bonne Terre" fundraiser every year and donates the proceeds to DARS to help rescue more homeless pets like Jack.


---
Cookies n Cream & Rocky Road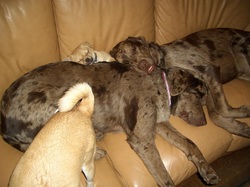 Cookies'n'Cream and her brother, Rocky Road, Newfoundland/Bluetick Hound mixes, had become too large for their petite owner to safely exercise, so DARS was able to find them the PERFECT FUR-ever home with an active family experienced with large breeds & a big backyard to romp and then NAP together in!
---
Atticus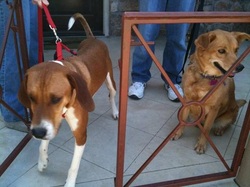 Atticus, a purebred Foxhound (left), had a sad start in life. He spent his first months locked in a small pen until he was rescued. After being cared for by DARS for almost a year, he was adopted into his loving forever home in Germantown. Now he runs free in a big backyard with his new sister, Vanilla (right).
---