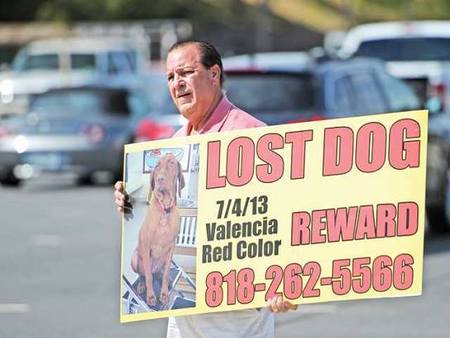 how to bring your lost companion home
Why they Leave
Dogs: May Run because of: Opportunity, Curiosity, Sexual Urges –if not neutered, Loneliness or Boredom, Fear.
Cats: May Run because of Opportunity, Curiosity, Defending it's Territory (from other animal), Desire to Hunt.
Best Chances
Your animals have a much better chance of returning home if they have A collar and tag with Current, Up to date Info and/or A microchip with Current, Up to date Info - having neither Or having old, out dated info on collars or microchips is the number one hindrance to getting an animal home.
What to Do
Walk your neighborhood calling your pet's name. If you have another companion animal that may attract your pet, take them with you. You may drive if your dog likes to ride or your animal is Not a cat! Stop often and
listen for your dog barking - someone may have placed them in their fenced back yard.
Talk to everyone – neighbors, mail carriers, meter readers and show them a picture of your pet and your contact info. Once you have fliers - hand those out to these people. Do this several times a day.
Call local vets, animal clinics and emergency centers and then follow up in person once you have flyers available.
Make Big, colorful and
Easy to Read
flyers and signs* with the word "REWARD" in large letters (don't list an amount). It MUST have a clear picture on it – if you don't one on hand, find one similar to your animal on the internet (search images). If you live in a bilingual area, make them in both languages. Include the breed, sex and weight. Consider putting your cell number so that they can contact you even if you're out searching.
Put the flyers in mailboxes, on the bulletin boards of all local Vet Clinics, Shelters, Pet Stores, Grocery Stores – anywhere you can.
Fax or take Flyers to the staff of local Vets, Animal Services and Shelters!
Consider distributing your flyers using the Postal Service, Every Door Direct
https://www.usps.com/business/every-door-direct-mail.htm
which can target recipients in specific areas.
Post the larger Signs on stop signs, light poles, at entrances and exits, etc. -wherever they can be seen by cars, especially where cars will be slowing or stopped.
Post a large sign in Your own yard to indicate to people where the animal belongs.
Use window paint to mark the back glass and back windows of your car with the same info as the signs. Fluorescent paint works well.
Place ads in local papers – pain & free print and online.
Post information on the websites:
Nextdoor.com
;
Everyblock.com
;
Helpinglostpets.com
;
Pawboost.com
In DeSoto County or Memphis – make a post on the facebook page(s):
Lost & Found Pets of DeSoto County
and/or
Lost & Found Pets
of the Mid-South
Monitor those pages and the Craigslist Sections of 'Lost & Found' as well as the 'Pets.' Put a post on Facebook page as well – social media is very powerful and many friends, colleagues, friends of friends, friends of your kids parents, teachers and even strangers will share your posts to get the word out.
Do All of the Above as fast as you can! Illicit as much help as you can get to accomplish it in the shortest amount of time as possible – it makes a difference!
How to Search Local Shelters
Go in Person and Search- calling will not do!
**See the Special Section: How to Search MAS (Mphs Animal Shelter)
Go to ALL shelters in the area – dogs especially can travel large Distances.
Take copies of your flyers with a GOOD Picture to leave at the shelter, but this doesn't take the place of going in person.
Search each shelter
every couple of days
– Shelters take in large numbers of animals daily and although most workers have wonderful intentions, the workload sometimes is overwhelming. Make sure you get a flyer into the hands of the intake coordinator. All Shelters are KILL SHELTERS!
Later
If you still haven't found your pet after a week or so, start searching Petfinder.com in case your pet was taken in by a Rescue Group or other Shelter and has been placed up for adoption. Search by Zip Code and Species only in case your pet's breed or sex has been entered erroneously. Continue the search for several pages
in case the animal has ended up in a surrounding county.
You can also contact local Rescue Groups directly. To get a complete list, select "Shelters" tab on Petfinder.com and put in your zip code.
Download above Instructions
HERE
Download a List of Local Animal Shelters
HERE
Download Instructions of How to Search Memphis Animal Shelter
HERE