Pet food stamps - help when times are hard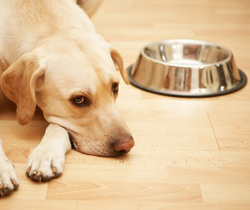 Pet Food Stamps If you find yourself in the position of having to give up your animal because you can't afford to feed them any longer, now there is help. It's Pet Food Stamps.
From their website: "Many people are also forced to choose between feeding their pets or themselves. A recent New York Times article states that "animal shelters have reported a steep rise in the number of cats and dogs being surrendered as owners face unemployment, home foreclosures, evictions and other financial hardships." As more families struggle with difficult choices like paying the rent or buying food, some have to choose between keeping their pet and putting food on the table.. Seven million pets are surrendered to shelters each year due to the inability of pet parents to pay for food, with four million of those pets put to sleep. The Pet Food Stamps program aims to eliminate the needless death of these loving pets and keep families together."
If you qualify for federal food stamps (about 15% of the nation) or fall below the poverty line, you will likely qualify for Pet Food Stamps too.
To apply, go to their website
PETFOODSTAMPS.ORG
and complete and submit an application.
According to their website, due to an overwhelming amount of applications, there may be up to a 6 week wait for a response. And reported on other websites, if approved, you will receive 6 months worth of food and then will have to apply again.
---